Gun Hill Signal Station
Gun Hill Signal Station, located in the parish of St.George, provides a magnificent and captivating view of the entire island!
It is the finest of a series of signal stations built in 1818. These stations sighted ships approaching Barbados and signaled to each other in warning of the approaching vessel. They were also used to warn of slave rebellions on the island. Another signal station can be found at Grenade Hall.
The signal station was restored and landscaped by the Barbados National Trust and now houses a collection of military memorabilia.
The statue of the lion (shown in picture at right) was carved out of a single piece of rock in 1868 by an officer at the signal station.
Explore other Barbados signal stations...
To see this beautiful location and others, take an island tour. Or why not get married at Gun Hill!
Tours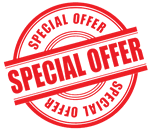 Visit Gun Hill as part of an exciting island sightseeing tour with stops at all the must-see sites! Click here for pricing & bookings
Save time & money: You won't find it cheaper online or anywhere else.
Don't be disappointed: Book ahead to guarantee you don't miss out on the best tours & activities.